Monday, June 21, 2004
The latest Dreamworks Animation film
Shrek 2
is definitely funnier that the first
Shrek
, but it is also a lot more uneven. The opening montage looking at Shrek and Fiona's honeymoon is one of the funniest 5 minutes of film ever. The animation is, unsurprisingly, top notch and very, very pretty. The original ensemble of Mike Myers (Shrek), Cameron Diaz (Princes Fiona) and Eddie Murphy (Donkey) are as funny as last time, and the new additions are well voiced also, including Julie Andrews as the Queen of Far, Far Away; John Cleese as her antagonistic farther-in-law-type and King; Rupert Everett as the delightfully vain Prince Charming; and Jennifer Saunders as a delectably evil Fairy Godmother. The standout new voice, though, has to be Antonio Banderas' effort as Puss In Boots, who goes from cute to cannonball in the time it takes to hack up a furball: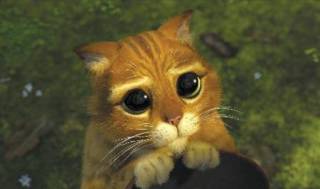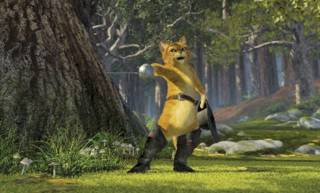 While the jokes are plentiful, the musical choices for are awkward and poorly chosen, except for those in the last half hour. These numbers tend to interrupt the flow of the film, breaking the otherwise breakneck laugh-a-minute pace. That said, for film buff's I don't think there is a single scene which isn't nodding at a past cinematic effort. Hollywood, Beverly Hills and the LA shopping strips are all marvellous parodied and medievalised, while the re-working of the Oscar's red-carpet commentary with fairy tale characters is to die for.
Shrek 2
is definitely worth viewing and has layers of humour of keep both the kiddies and adults pleased as an Orge in a mudhole!