Thursday, March 30, 2006
iLounge reports that Griffin have finally got around to an iTalk equivalent for the 5G iPods which can take advantage of the CD quality recording potential built into the newer iPods. Details of the
iTalkPro from iLounge
:
Substantially redesigned from the company's earlier, popular iTalks for 3G and 4G iPods, the glossy black iTalkPro now boasts twin internal microphones for recording in CD-quality stereo, taking advantage of the 5G iPod's superior stereo and monaural sampling modes, and a bold red recording light around its one-touch recording button. It also features a unique on-screen gain adjustment menu and a bottom-mounted port for an external microphone of your choice. Predictably, the new iTalk connects to the 5G iPod's bottom Dock Connector, and is not compatible with earlier iPods. A release date and pricing have yet to be announced.

According to Griffin, iTalkPro will be able to record for 3.5 continuous hours on a fully-charged 60GB fifth-generation iPod, or 1.5 hours on a 30GB model before the battery runs out, a limitation based largely on the 5G iPod's need to spin its hard drive all the time during recording. These recording times also assume that the iPod has sufficient hard drive space for recording; Apple's firmware saves files in high-bitrate WAV format rather than in compressed MP3 or AAC.
The iTalkPro joins the much-hyped
XtremeMac MicroMemo
...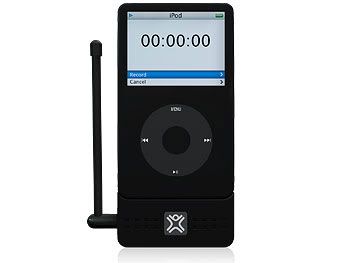 ... and
Belkin's TuneTalk
...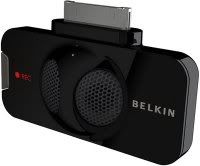 ... all set to enter the market in the near future (release dates range from a vague "late spring" [which would be late Autumn for those of us in Australia) to no date at all, but you can pretty much guarentee they'll all appear in quick succession).
Given the far
greater audio recording quality inherent to the 5G iPod Video
models (44.1khz stereo), the owners of the latest iPods are (finally) about the become (potentially, at least) the creators of high-quality podcasts (and numerous other digital audio products)! At a higher education level (and, indeed, a K-12 level, too), this means that buying iPods can simply be supplemented with a microphone plugin to turn them into a high quality recording device and separate devices won't be necessary for a wide range of audio recording tasks.
Bring on the
student-created podcasts
!
Update 22 Aug 06:
The
first of the iPod Video microphones has finally arrived
!
[
Cross-posted from my eLearning blog
.]
[Tags: podcast | microphone | apple | ipod | ipodvideo | 5g | italkpro | tunetalk]