Sunday, June 12, 2005
Just as the over-sexed, over-hyped Australian series of
Big Brother
is celebrating its
first in-house sexploits
, the new BBC
Doctor Who
season is joining the hype over the UK version with an episode where
the Doctor, Rose and a second companion Australian audiences have yet to meet get stuck in a gameworld which is run remarkably like the Big Brother household
...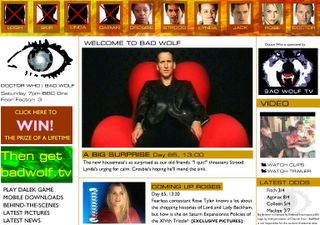 As a
UK Big Brother fansite
reports:
Doctor Who fans will see the time travel hero become a spoof reality TV star and appear in the Diary Room, chatting to Big Brother and trying to escape from Britain's most famous house. BBC Producers have been granted permission to use the famous Big Brother music and logo.
Interestingly, if the
ABC
continues screening Doctor Who every Saturday, then the
Big Brother
themed episode will probably screen within a week of the final eviction show in Australia.