Monday, May 24, 2004
According to the ABC News
, something very odd is happening inside a volcano in New Zealand: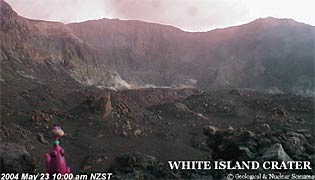 Scientists using a camera to monitor a remote New Zealand volcano over the Internet have struck an odd problem - a pink dinosaur. ... last week a pink dinosaur started appearing in the photos. ... "Some wag has glued a pink dinosaur in front of our digital camera," GNS's John Callan said. "A number of people have been emailing us asking what the dinosaur is all about." They are not planning to remove it, counting on the sulphur and high acid environment to deal with the creature.
As practical jokes go, this is pretty good!